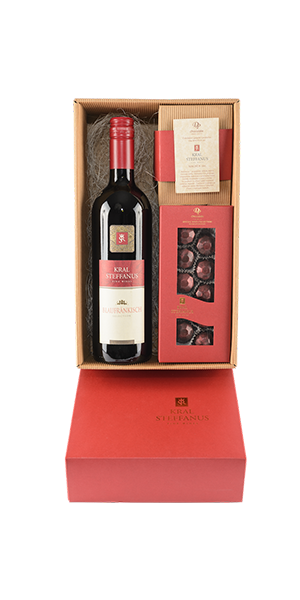 Král Steffanus
/
PREMIUM GIFT SET
KRAL STEFFANUS


PREMIUM GIFT SET

An exclusive gift set containing a bottle of our wine of your choice and handmade chocolates containing wine from our vineyards.

The irresistible combination of delicious flavours, where crisp chocolate meets the perfect flavour of the wine, will tickle everyone's taste buds. The chocolate melts slowly in the mouth to create a paradise on the tongue.

The gift set is a limited edition created only for the Kral Steffanus brand and the special chocolates in the set have been developed over several years to provide the best pairing of wine and chocolate.

The Premium gift set includes:
one wine (0,75l) from the Kral Steffanus range (other than Magnus Two or Jubiläumsrebe)
chocolates filled with our red wine Magnus and our dessert wine Jubiläumsrebe (100 g packet with three months' shelf life)
A logo can be applied to boxes at a rate of EUR 0.20 per application when purchasing more than 100 items in 1 format. When purchasing less than 100 items a flat rate of EUR 20 is charged. The cost of producing a magnesium stamp is EUR 25. Quoted prices do not include VAT.