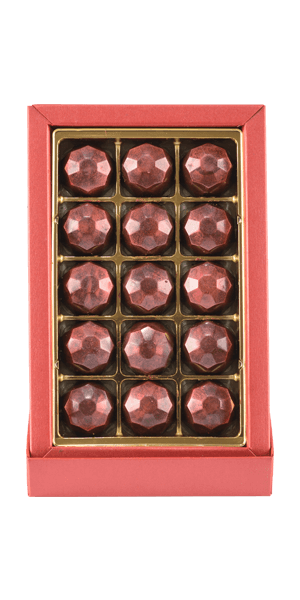 Král Steffanus
/
SPECIAL WINE COLLECTION 150g
KRAL STEFFANUS


SPECIAL WINE COLLECTION 150g
Chocolate

Fine hand-made dark chocolates filled with our wine. This delicacy has been developed exclusively for Kral Steffanus and offers a unique pairing of fine chocolate and top-quality wine.
The chocolates are filled with either our sweet dessert wine Jubiläumsrebe (grey box) or our red wine Ingenuus (red box)
Chocolates can be ordered separately or together with the wine of your choice in a beautifully designed gift pack. Chocolates are sold separately in boxes of 15 chocolates (150g)
Chocolates are best consumed within 3 months. They contain no preservatives.
A logo can be applied to boxes at a rate of EUR 0.20 per application when purchasing more than 100 items in 1 format. When purchasing less than 100 items a flat rate of EUR 20 is charged. The cost of producing a magnesium stamp is EUR 25. Quoted prices do not include VAT.
€ 12,80 / 349 Kč
Packing 15 items (150g) = €12,80/349Kč
Go to order
Chocolate Special Wine collection on order.